With cable quickly becoming a dead medium, any well-written and produced content is welcome. I've been in an animation mood lately, so I checked out a couple of cartoons online. Here are some of the best cartoon series the Internet has to offer.
Bravest Warriors on Cartoon Hangover


Bravest Warriors is an animated web series created by Pendleton Ward and directed by Breehn Burns. It appears on Cartoon Hangover's YouTube channel. It follows four teenage heroes-for-hire on various erratic missions around the universe in the year 3085. Chris Kirkman, the team's leader, is also an Emotion Lord, whose future self shows up every couple episodes to create chaos. If you love space, sci-fi, and stoner comedy,Bravest Warriors is a great choice.
Mother Up! on Hulu
Eva Longoria isn't just one of the sexiest actresses on the silver screen – she also happens to be hilarious, providing a great sex tape to Funny or Die, and Mother Up!, a brilliant work of animation, to Hulu. The show follows Rudi Wilson, a disgraced record executive and single mother, as she attempts to pick up the pieces of her life in suburbia. The show addresses serious issues for single parenting, but the wit is still sharp. Adults looking for an adult cartoon they can watch with their kids will love Mother Up!
The Awesomes on Hulu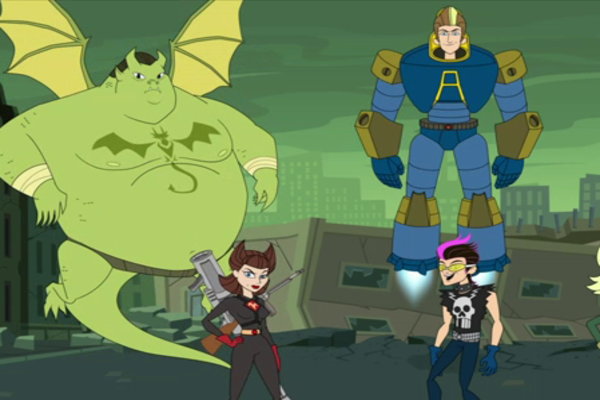 If you're a fan of Saturday Night Live and Seth Meyers, The Awesomesis…well…awesome. This superhero show about a misfit Avengers-clone run by the not-as-super-as-his-Awesome-dad Professor Dr. Jeremy (Prock) Awesome looks like it has the legs to be a long-running hit for Hulu. With a solid superhero universe, great storylines, and a slew of guest appearances, this ragtag group of flawed, second-rate heroes is perfect for anyone who just can't get enough superheroes.
Brian Penny is a former Business Analyst at Bank of America turned whistleblower, freelance consultant, and troll. He's a frequent contributor to The Street, Huffington Post, Cannabis Now, and Fast Company.