10 Healthy and Easy School Lunch Recipes Students Will Appreciate
Save time by making things in bulk at the beginning of the week.
When school starts, it's hard to stay healthy. School cafeterias from kindergarten through university have a lot of unhealthy options. And cafeteria food can get expensive, so it's always easier to pack a self-made lunch.
Things quickly get routine if you don't plan ahead or learn to make things in bulk (especially if you're feeding a lot of students). Tupperware (or Pyrex if, like me, you prefer glass storage) is a godsend that helps you prepare at least a week's worth of meals in advance. As you get into a grove, you can prepare pieces of a month's worth of lunches in the freezer, fridge, and cabinets.
Besides the ideas below, check out the menus of meal delivery services to see how diverse of a menu you can prepare with a strategically stocked kitchen. These skills will serve you well when you enter the workforce, where sack lunches are still preferred to overspending at local restaurants. In fact, not eating out is the most recommended way to save money by financial experts.
If a school lunch below looks interesting, click the picture to read the full recipe.
1. Childish Charcuterie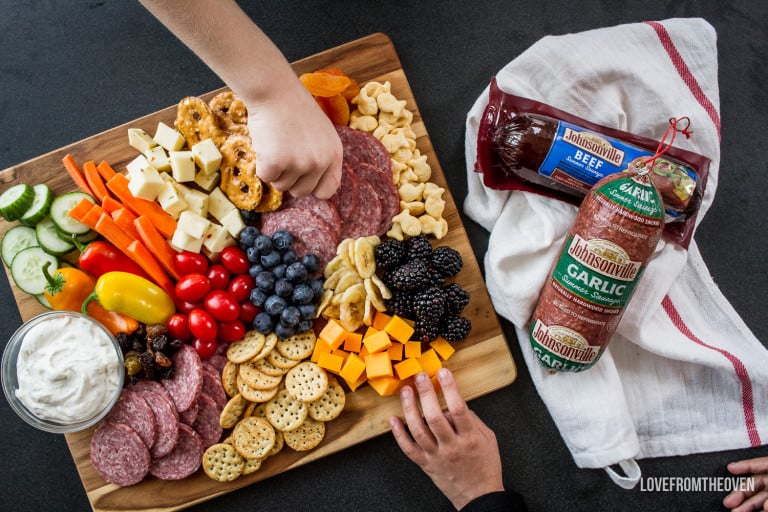 Charcuterie boards are a fancy way of saying "meat and cheese plate." They're typically ways for people daring each other to eat more and more exotic meats and cheeses while drunk on wine. Whereas Hillshire Farms remembers Lunchables and makes a more adult version, we're making the charcuterie board more accessible for everyday sustenance.
2. Homemade Hot Pockets
Hot Pockets are a simple way to pull a late-night meal out of the freezer, microwave for a few minutes (although the oven is sooo much better), and snack when you have the munchies. The problem is prepared foods in the grocery store are filled with calories, and they may not make flavors you like. Solve the problem with some frozen puff pastry and fillings of your choice.
3. Bento Box
Bento boxes are a staple of Japanese culture and represent their version of the "sack lunch." Because social status is important to them, parents would often spend hours creating edible works of art to show off how well they are doing. They wanted kids to open their bento box and be surprised at how impressed their friends were. You can do the same here in America, and the more authentic your ingredients, the more white people on both sides of the political divide will be in awe.
4. Sliders and Sammies
Sliders (aka Sammies) are more than just mini sandwiches – they're American Bento Boxes. Cooks, chefs, and restaurants across the country compete over who can prepare the most extravagant mini sandwiches around. Burger King has sliders every now and again, and McDonald's is testing Big Mac sliders (where its future will likely lie). Check out Delish's slideshow of sliders to find out how many ways you can prepare a "simple" sandwich.
5. Pitas and Tacos
Taco shells and pita bread can be pretty much interchangeably, if we've learned anything from Taco Bell. If you can separate ingredients (the baggies you use to sell weed will work), you can preserve all the moisture of the ingredients without a soggy shell. As you get older, you can experiment with more flavors, but the taco and pita offer a lot of variance in your lunch schedule.
6. Leftovers
Dishes like casseroles and sandwiches have their origins in leftovers, and if you're going to eat leftovers, at least find a new way to prepare them. The art of reheating and revitalizing leftovers is so much more than just eating the same meal again. Look at the above picture – it's still Thanksgiving dinner, but it looks and tastes different enough to be palatable when you're already on your twelfth helping of turkey.
7. Breakfast for Lunch
Breakfast for lunch is another way to reimagine leftovers, and OMG is Lisa Marsh an expert. Check out the link above to learn about pankcake sandwiches, waffle sandwiches, cereal, oatmeal, and other tasty lunches made from breakfast ingredients. Honestly, I'm about to stop writing this blog right now to go eat some breakfast, so thanks for inspiring me, Lisa.
8. Salad
If salad sounds boring to you, then you're boring. Salads are delicious, and the variety of flavors is limited only by your imagination. People of any age can enjoy a good salad, and if you've ever seen a pre-made one in a store or fast-food joint, you know how to keep the ingredients separate to maximize freshness. If you want to impress me, eat a salad.
9. Pizza Burgers
Pizza burgers are an American delicacy that must be tasted to be believed. I know Riverdale included Pop Tate's burgers, but I don't know if they've touched upon the topic of Jughead's love for his own homemade pizza burgers. In fact, I've not watched the show at all and probably should. Anyway, make these burgers – they're fire.
10. Grilled PB&J
Finally, we take the classic PB&J up a notch by buttering the bread and frying it. If you have a sandwich maker, you can even seal the sides to ensure none of that ooey, gooey filling falls out. Switch up peanut butters (or nut butters in general), jams, jellies, and even fresh fruits, honey, maple syrup, bacon, or whatever else you fancy in your PB&J.